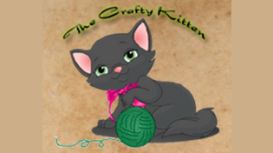 The Crafty Kitten is owned and run by me, Nikki Edwards - to find out more about me personally please check out my Bio page. The reason for this website is that I am making an ever growing range of products, including home-made candles of varying shapes, sizes, and types, Polymer clay "one-of-a-kind" (aka "OOAK") model of dragons, fairies and mermaids - all of which make unusual, affordable and memorable gifts.
Each polymer clay model, whether dragon, mermaid or fairy, comes with its own birth certificate which is also your certificate of authenticity that your model is a genuine "one of a kind" piece. Although I make pieces in the same colour schemes, no two are ever quite the same, with subtle differences to their postures and facial expressions bringing them to life.
As well as polymer clay models, I do a number of ranges in polymer clay, including jewelry, bag/phone charms, photo/memo holders, and ring keepers.
---
Reviews and Ratings
Had a one to one session with Nikki at Crafty Kitten as a birthday treat from my Husband. Had a wonderful time. The session was completely tailored to my needs, Nikki is very knowledgeable..and patient!!! Would thoroughly recommend and will be returning for a session with my little girl.
Loved our fairies so much....fine delicate features but strong enough that they easily survive 2 boisterous little girls. This shop has such a talented, lovely lady running it...couldn't ask for more!!!