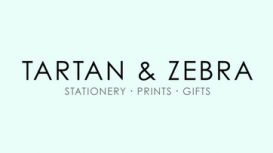 A world of natural sophistication, superb elegance and flawless etiquette. At Tartan & Zebra we are purveyors of lifestyle and etiquette to those who like us appreciate beautiful things, refined manners, quality and exclusivity. For those for whom entertaining at home, operatic soirées, afternoon teas and garden parties are not only a social gathering but a display of know-how, splendour and joie de vivre. Because living in the 21st Century does not mean we must forget years of tradition and social standards, we offer the modern host timeless and contemporary personalised stationery, bespoke party invitations, stationery gifts, accessories, lifestyle gifts and art prints.
The perfect complement to manners and etiquette, we see the art of personalised stationery and fine etiquette as a unique way of expression, a language and a personal attitude. Offering a stylish and elegant selection of luxury personalised stationery, bespoke stationery and ready to write.
---
Reviews and Ratings
We do not have any reviews about Tartan & Zebra available right now.