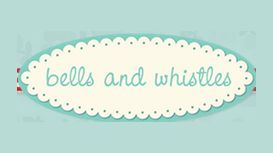 Georgie had worked for Kirstin the founder of Bells and Whistles for one year and eight months. She soon realised that retail suited her and that she was passionate about her work and visual merchandising, so much so, that she wanted to learn more about the world of retail. The North Norfolk coast in her mind is an open playing field for small boutique retailers that can offer something fun, quirky and unique. She may not pocess the same backround in textiles as its formal owner did, but she makes up for it by looking after her customers and her passion to learn more. The majority of her working experiences have come from the catering sector where she gained great customer skills.
In 2012 Bells and Whistles moved to a larger premises on the bustling coast road in Thornham, North Norfolk. The shop stocks all the brands and designers found on the website aswell as some locally produced and handcrafted treasures too.
Reviews and Ratings
Gorgeous clothes and accessories for children from newborn up. My 7 year old girl was in seventh heaven at this wonderful boutique. Beautiful girlie clothes and accessories, fabulous boys section, fantastic gifts and pocket money toys as well as all the practical bits you may need for a summers day or winter shower in Norfolk! The owner is a ray of sunshine too and fabulous with the children.
A beautiful selection of children's clothes, owner very friendly!
---